Account Direct Program, Philosophy
AMSOIL Dealers are independent business owners that register to sell AMSOIL products.
When a person decides to become an AMSOIL dealer they work for themselves but not by themselves. Dealers have AMSOIL Inc. as well as their sponsoring dealer and Direct Jobber to look towards for guidance and help. The AMSOIL marketing plan allows dealers to sell products in a variety of ways, from personal sales, to online and preferred customer sales, to commercial and retail-on-the-shelf/installer customers (ROTS). This site will focus on helping dealers that would like to work with Commercial and (ROTS) accounts to get their business started. Then we will teach you to move up to higher levels of achievement like Direct Dealer and Direct Jobber.
The AMSOIL Account Direct level of achievement should be "the base" or "the bread and butter" for any beginning AMSOIL Dealer. The Commercial and ROTS program can help dealers achieve fast commission growth, above and beyond just selling products or registering preferred customers and dealers. One of the main reasons we were attracted to the AMSOIL Business Opportunity was because of the ability to work directly with other businesses. The nature of doing Business to Business separates the AMSOIL Opportunity from virtually 99% of all other Home Based Business or MLM type of companies. With the Commercial and Retail-On-the-Shelf/Installer program (ROTS), we no longer have to chase friends and family to get a few customers.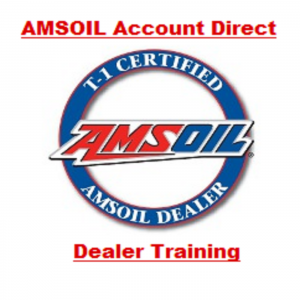 Secondly as an "Account Rep" AMSOIL pays dealers a higher commission upfront because of the nature of developing a new commercial or ROTS account. Becoming an AMSOIL Account Direct sets you apart as a true limitless entrepreneurial experience and journey With the Commercial and Retail-On-the-Shelf/Installer program, we no longer have to chase friends and family to get a few customers.
How does an AMSOIL Dealer qualify for the Account Direct level of recognition?
Any AMSOIL dealer will be recognized as an AMSOIL Account Direct when they have registered 25 Commercial and/or Retail-On-The-Shelf Accounts and have at least 1,000 commission credits for a given month.
A serious hard working AMSOIL dealer could earn Account Direct in a short period of time. We've seen dealers do this in as little as 90 days of beginning their business. Having solid business relationships and working with your local Retailers/Installers as well as the many Commercial type businesses such as farmers, trucking fleets, delivery fleets, and other small to medium sized businesses that would like to take advantage of the value, performance and protection that using AMSOIL Synthetic Lubricants can offer. We have also seeing motivated dealers register 20 or more C/R accounts at a single trade show. Working trade shows allows a dealer to get in front of hundreds of even thousands of potential customers and accounts. In the past AMSOIL Inc. actually paid two separate commissions checks to dealers each month.
One commission for their sponsorship activities and one for their Commercial and Retail-On-The-Shelf (C/R). Today all commissions are paid in one single check. But dealers must realize that the compensation plan still separates out C/R commissions. All dealers should understand what activities will bring in commissions and work at their business in the most efficient manner. C/R accounts pay a higher upfront "Cash Commission" because dealers that work with these types of customers have to be diligent in providing that high level of service to ensure these customers have the best AMSOIL experience. All dealers have access to the G3501 – Dealer Profit List available in their AMSOIL Dealers Zone under "Product and Program Lit/Price Lists & Catalogs". If you are interested in becoming an AMSOIL Dealer we would be glad to send you a copy of the G3501 as well as the latest version of the G47-B Compensation Plan.
Account Cash Commissions: Each product is assigned an account cash commission value according to package size. Dealers earn account cash commissions on purchases made by commercial and retail accounts.
Account Commission Credits: Each product is assigned an account commission credit value according to package size. Dealers earn account commission credits on purchases made by commercial and retail accounts. Commission credits and account commission credits are totaled monthly and applied to the AMSOIL Commission Schedule. Dealers are paid commissions according to the total personal group commission credits.
As an AMSOIL Dealer since 2000 we have used the C/R program extensively in the beginning as well as still to this day to help our business grow. We enjoy working with other business owners to help them get the best products at the best price. Working with us as AMSOIL Customers, these C/R accounts receive the highest customer service. Michael and Alecia Sparks, AMSOIL Dealers / Regency Gold Direct Jobbers