Listen to the Bell Teleconference for April 19th, 2018
Our guest speaker for this month is Nancy Hoopes.
Nancy has been in recruiting, training, hiring and development for over 20 years working for such Fortune 500 companies as Whole Foods Market. She's built and managed human resources for six start ups, gaining specific knowledge and expertise in working with entrepreneurs and building businesses. As the Senior Program Manager for the Great Assistant program, a division of Profit Factory, Nancy has matched over 100 clients with their virtual assistants.. She's a Certified Kolbe Consultant with a degree in Political Science and an MBA in Finance and Accounting.
One this call we discuss the Kolbe.com test. The Kolbe A™ Index. It's a quick, easy assessment with no wrong answers.  After you answer the 36 questions, you get a personalized result with tips and tricks for how to use your natural strengths.
You will learn:
What is Kolbe
Common uses for Kolbe
Sample interpretation
How to take the Kolbe and what is the cost?
Michael's Kolbe Score and what it means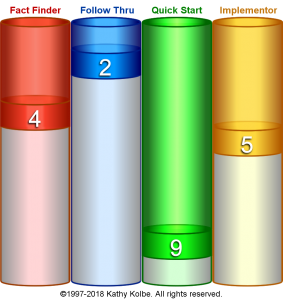 For more on taking your Kolbe Profile test, visit: profitfactory.com/kolbe/
Click on the player below or download to listen later.